Announcements
 Registration for Fall 2023 is underway!  Currently all divisions are closed except U6 (5 year old) Kinderpints and Kegs (ages 14-senior in high school)
Check back on this page for more information and to register your players!

We can't wait to see you all back on the fields! -Bob Schmidle, Commissioner
We play in any weather - rain, sun and even snow!
Interested in volunteering?  Please contact our Commissioner, Bob Schmidle. We would love to have you on our team!
Attention NEW Coaches, Assistant Coaches, Junior Coaches, Referees and Board Members
IMPT - Certificate is valid for two years

Before the season starts, please complete the Concussion Class at the link below and email the certificate to Kristin Forgione.
If you have done the program already and have a hard copy, please keep it in a safe place and drop it off the first week - Saturday 09/9/2023.
We would like to thank our 2022 EMW Soccer sponsors! Thank you for supporting the youth of our community and allowing us to bring the fun of soccer to the hundreds of kids that we serve!  Learn more about these wonderful organizations here.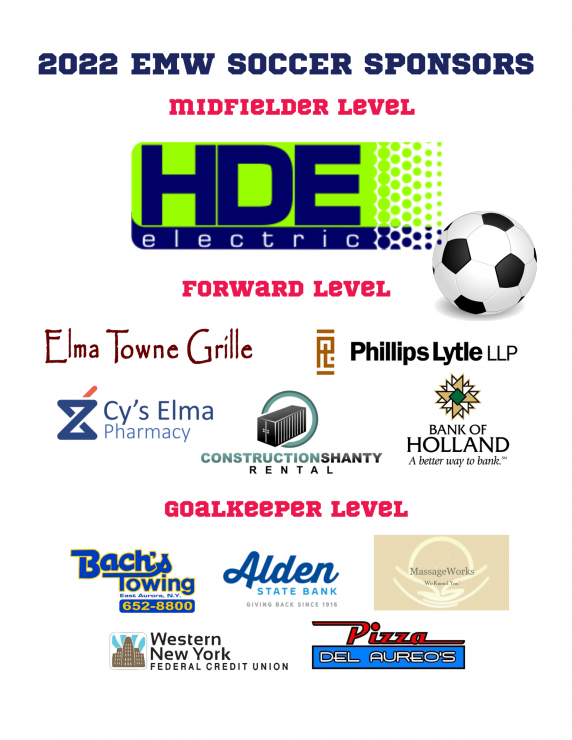 Weather

Calendar

Schedule


Events

Our Fields:  7100 Seneca St., Elma, NY  14059
Our Program
 The EMW soccer season runs in the fall beginning the first or second Saturday in September (depending on Labor day) and runs for 8 consecutive weeks. All divisions are co-ed.  Children are placed in divisions based on their age as of  December 1 of the current year not their grade.  EMW Soccer does not allow children to "play up" or "play down" a division.  Children  must remain in the division that corresponds to their birthdate.  All new players must show proof of birthdate when registering.  If registering on-line, their registration is not complete until a copy of the child's birth certificate is mailed, emailed or faxed to the registrar.
It's all about fun!  As a recreational league beginning in the late 1970's, EMW soccer continues to teach children the fundamentals of the game.  We want all players to learn the game and to have fun at the same time.  While teams win and lose each week, we do not keep score and we do not give out trophies.  The children shake hands after every game and learn the importance of good sportsmanship.  We encourage parent involvement in the team and in the EMW Soccer organization. 
Our Mission
 The mission and goal of EMW Soccer is to develop the body, character, and sportmanship of our youth while teaching soccer and having fun.  The EMW Soccer Board is dedicated to accomplishing this objective and urges you at all times to remember that development of character is of prime importance, and the attainment of athletic skill or winning of games is secondary.